Extensive electrification implies prohibitive increases in network costs.
Extensive electrification needn't imply rising network charges. If we use the network smartly, costs per kWh can be kept stable or even reduced as part of an electrification strategy.
Network charges need not increase with electrification provided that we use the network smartly and make use of cost efficiencies. Some network cost efficiencies will occur naturally, as the average costs of network equipment tend to fall as its size increases . However, some of the biggest potential sources of efficiency come from 'flattening the curve', as illustrated below. By retiming demand, existing infrastructure can be used effectively without incurring unnecessary investment. This retiming can be achieved, for example, by using network tariffs to encourage the retiming of vehicle charging or through energy service companies that adjust water tank heater demand to match network availability.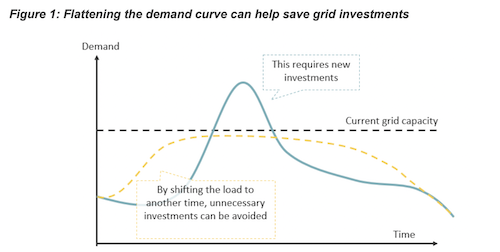 By flattening the curve and taking advantage of natural economies of scale, more demand can be accommodated with lower investment requirements. Although the scale of these effects is uncertain, numerous studies and pilot projects have shown the significant potential of retiming demand:
A study in the UK found that a 10% reduction in peak demand could be achieved by employing time-of-use tariffs. Additionally, the Association for Decentralized Energy in the UK determined that a 16% peak reduction could be provided by businesses . Assuming that these reductions to residential and commercial peak demand are generally achievable, household network charges could remain the same or even slightly fall from their current levels even after accounting for the pressure to increase peak demand due to electrification from 40.5 €//MWh to 39.6 €/MWh
A study of the Czech Republic in the Interflex project found that by using EV smart charging stations, the need for transformer investments could be reduced by 46% . Assuming this level of savings and given the share of total costs linked to transformers, implies a 4-8% fall in overall household network charges for the affected consumers, from roughly 46 €/MWh today to around 42-44 €/MWh. (Without considering increase in the ratio of peak demand to total demand.)
A 2019 study in Norway found that, with efficient grid use, network costs would either stay the same or decrease from around 30 €/MWh to 20 €/MWh for household users over the period 2025-2040.
A study of France for the Grid4EU project found that by controlling electric heaters, residential peak demand could be reduced by 21% and businesses peak demand could be reduced by 6-9% . These reductions in peak demand would imply a 9-11% fall in network charges for the affected consumers. By taking into consideration the increase in peak demand from increased electrification, costs could go from roughly 50 €/MWh today, to around 47-48 €/MWh.
Overall, therefore, electrification need not entail higher network costs per kWh. Provided policies are put in place to enable the more efficient use of the network, for example through time-of-use tariffs, network costs per kWh may actually decline.
References:
Econ Pöyry AS, Report 2008-129 Optimal Network Tariffs and Allocation of Costs Optimal Network Tariffs and Allocation of Costs Commissioned by the Norwegian Water Resources and Energy, 2008.
HM Government and Ofgem, "Upgrading Our Energy System," 2017.
The Association for Decentralised Energy, "Demand Side Response," accessed April 15, 2020, https://www.theade.co.uk/resources/what-is-demand-side-response.
Jan Kula and Jan Svec, "Analysis of Smart Technical Measures Impacts on DER and EV Hosting Capacity Increase in LV and MV Grids in the Czech Republic in Terms of European Project InterFlex," 2019.
DNV GL, "Strømnettet i et Fullelektrisk Norge," 2019, www.dnvgl.com.
Grid4EU, "GRID4EU: Innovation for Energy Networks," 2016.