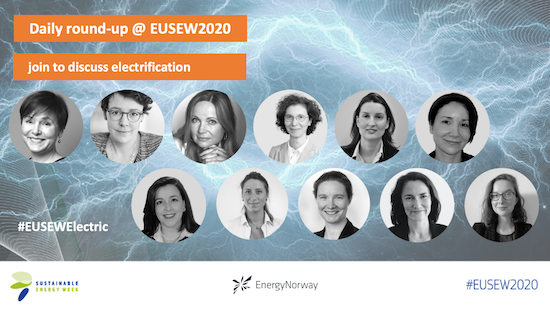 As a part of official EUSEW2020 programme, we are coordinating daily discussions on the high-level policy conference from the perspective of electrification. Going beyond energy sector and focusing on final energy and demand side, these daily discussions will be reflecting on the EUSEW high level policy events' themes. No presentations, but a free-flowing live discussion facilitated by the moderator open for your questions.
Electrification already drives innovation and new business models. The aim is to deliver lower energy costs and lower climate emissions for all Europeans. Electricity connect energy transition to many other sectors, such as health, digitalisation, innovation, food and ICT to name a few. Electrification is the key way for fulfilling Green Deal and mitigating climate change. It is also the most economic way to deep energy transition, reaching downstream to industry, SMEs and private households.
---
Moderated by Marion Labatut (Deputy director European Affairs, Head of the Brussels office at EDF) we are discussing climate neutrality, decarbonisation, sector integration from the position of electrification of transport, heat and industries.
---
Moderated by Toini Løvseth (Head of Market, Electrification and Customers at Energy Norway) we are discussing EU policy developments on sustainable investments, taxonomy and new business models, that can unlock energy transition in Europe. Why electrification and sector integration are the immediate, cost-saving solutions, and which financial mechanisms are still needed.
---
Moderated by Natalie Samovich (Chair steering board AIOTI, chair WG Smart Energy) we are discussing why economic and social connectedness via digital transformation, itself enabled by electrification, is the key for energy transition in Europe.
---
This series of EUSEW discussions is supported by Energy Norway.